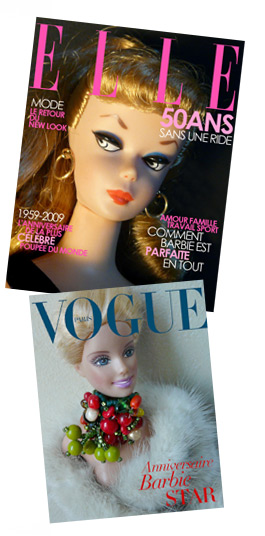 Editorial
This design needed time to take root, as often. The whole story began one day, in November 1967, with a present, all tenderness.
It was pink, vaporous and extremely delicate. With the patience of an angel, my mother had secretly knitted a dressing gown and tiny bootees for my Barbie. It seems to me there were more clothes, but these bootees, with their little pink knots on top totally fascinated me.
Then I grew up. The doll vanished, but I kept in mind the elegance and grace of my Barbie as well as a little bootee deep down my secret box.
One day, the idea of extending the happy part of my childhood through pictures I love took shape. Barbie is often criticized for being too blonde, too superficial, too skinny, too "ideal marketing", too "this" and too "that"…. My aim was to adjust this so famous profile to different emblematic representations.
Here's my personal contribution as a birthday present to my mascot, Barbie, superimposed on the vision of artists whose work I greatly appreciate.
Let me thank them all for creating such intense pictures.
Many thanks to Ruth Handler for creating this dolly model that enraptured me throughout my childhood.
Jocelyne Grivaud